Chronic Disease Management Programme (Medisave)
MEDISAVE 700 - AN ENHANCEMENT OF THE EXISTING MEDISAVE500 SCHEME:
ENHANCEMENT: HIGHER OUTPATIENT MEDISAVE WITHDRAWAL LIMITS
With effect from 1 Jan 2021, eligible patients suffering from complex chronic conditions will have a higher Medisave withdrawal limit (up to $700) to fund their outpatient treatments, up from $500 previously.
Before 1 Jan 2021
$500 for both simple and complex chronic conditions
From 1 Jan 2021
$500 for simple chronic conditions
$700 for complex chronic conditions
Please refer to the table below for the criteria for each of the withdrawal limits.
Patient Status
Description
MediSave Withdrawal Limit
Complex Chronic
A patient would be considered a complex chronic patient if he/she has:

(a) Received treatment for two or more different CDMP conditions in a visit; or

(b) Received treatment for at least one CDMP condition with recognised complications.

$700 per year
Simple Chronic or other approved outpatient care for patients with no chronic conditions
a) A patient would be considered a simple chronic patient if he/she has received treatment for only one CDMP condition

b) Other approved outpatient care would include vaccination for eligible patients under the National Adult/Childhood Immunisation Schedule

$500 per year
ENHANCEMENT: CHANGE IN BASIS OF MEDISAVE500/700 WITHDRAWAL LIMITS
The annual withdrawal limit has been changed from per-account basis to per-patient basis.
Those with insufficient savings in their own MediSave can continue to tap on their family member's accounts, up to the prevailing withdrawal limit of $500 or $700.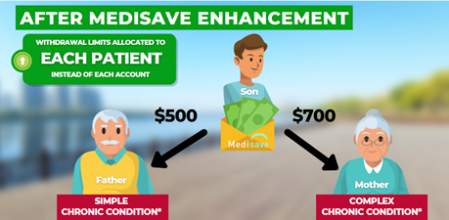 For more information, please refer to the following MOH or CPF website.
https://www.moh.gov.sg/cost-financing/healthcare-schemes-subsidies/medisave
https://www.cpf.gov.sg/Members/FAQ/schemes/healthcare/medisave